Timeline-Marker-Exporter-Plugin for Edius
The Timeline-Marker-Exporter-Plugin exports marker positions of the EDIUS timeline into a simple textfile. You can choose the export format, either the frame number, standard SMPTE timecode format ("hh:mm:ss;ff") or a user defined format. The user defined format supports several placeholders for the real values during export. The exported list can be used for other things like DVD authoring (as chapter points).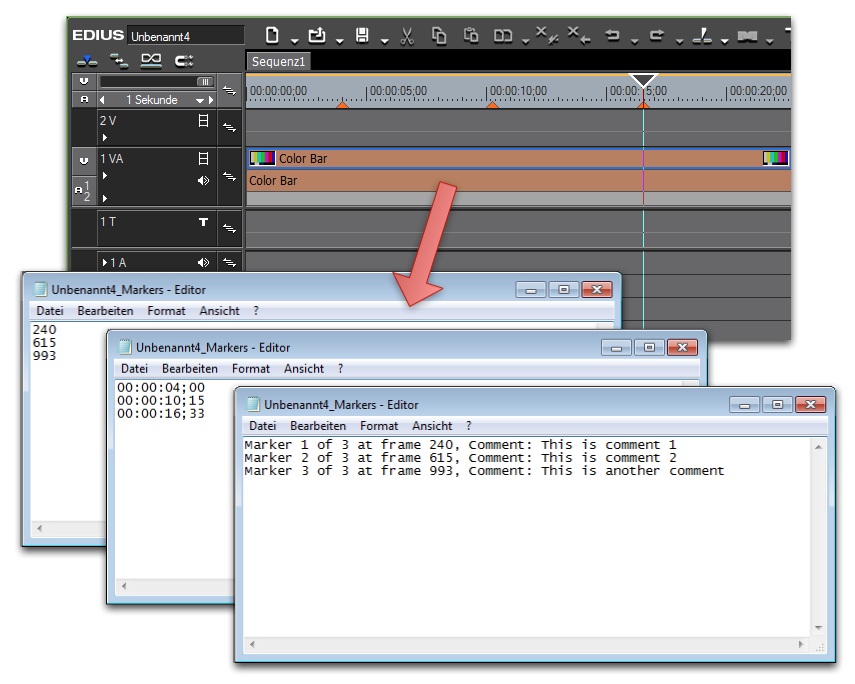 Screenshot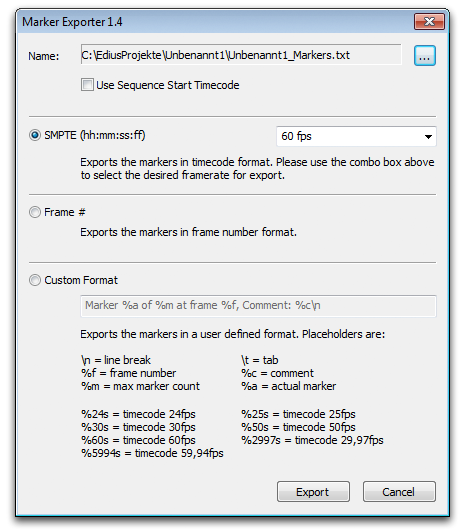 Main window of the Timeline Marker Exporter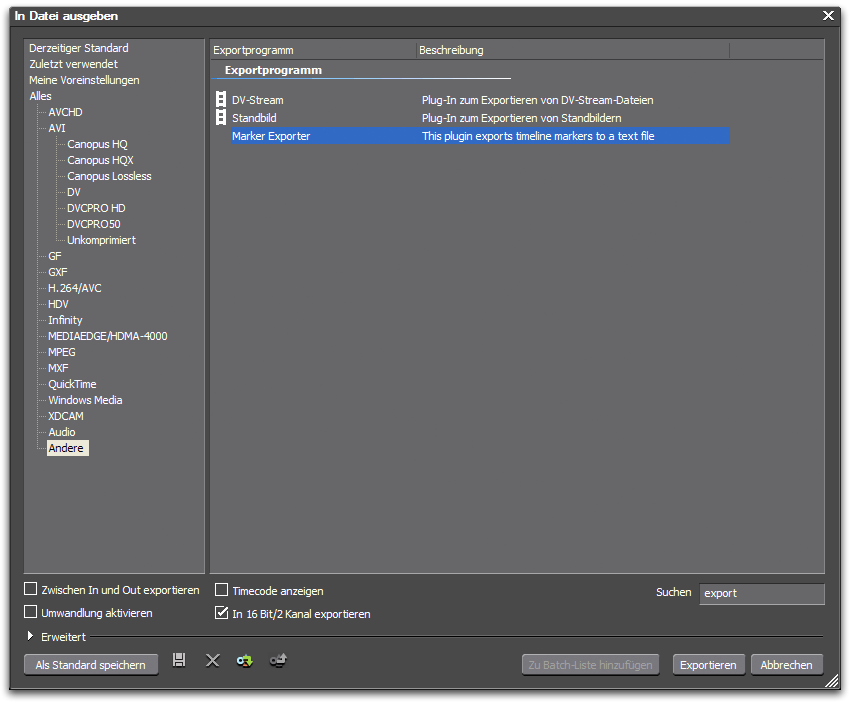 EDIUS's list of exporters
Import Chapters into DVDLab
This section shows how to import chapter points into the DVDLab authoring tool (Mediachance). Chapter points are used for quick navigation through the movie using the next/prev chapter keys on the viewer's DVD remote. Chapter points can also be used as reference for menu links.
Before you can set up chapter points, import the corresponding movie into DVDLab first. By choosing "Movie" and "Import Chapters…" a file import dialog is shown, which allows you to select a plain text file for import (the text file of the MarkerExporter).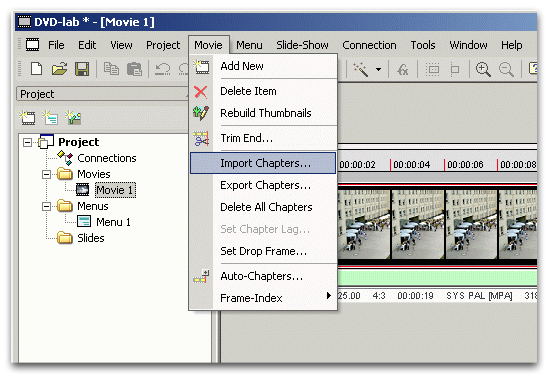 The exported text file will be analyzed and imported by DVDLab by choosing "Movie" menu and selecting "Import Chapters…" or by right-clicking the movie and select Import Chapters from the context menu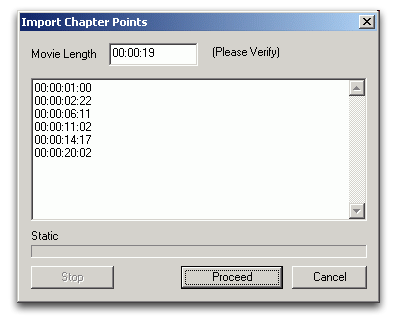 If you click the button "Proceed" DVDLab starts to scan the video file for the imported frame numbers and automatically sets the chapter points at that positions.
FAQ
With EDIUS I have the possibility to export the marker-positions into a textfile. Why do I need MarkerExporter?

EDIUS can export positions of the markers only in the framerate of the current project, a conversion into another framerate is not possible (for example from NTSC- to PAL-timecode).

Which versions of EDIUS are supported by the MarkerExporter?

EDIUS 4.x
EDIUS Neo 1.01
EDIUS 5.x
EDIUS 6.x
EDIUS 7
EDIUS 8
EDIUS 9.3
EDIUS 9.5
EDIUS X
Installation
Edius all Versions: Just copy the file 'MarkerExporter.tpi' into the PlugIn-directory of Edius. (usually C:\Program files[Canopus or GrassValley]\EDIUS\PlugIn)
License
The "Timeline Marker Exporter" is Freeware.
The software may be copied and passed on for non-commercial-use.
The software may be passed on for commercial use only with a written declaration of consent of the author.
"commercial passing on" means to propagate the software in such a way to achieve financial benefit.
The author is not liable for defects and lost data in direct or indirect way due to the use of the software. Use at your own risk!
Its not allowed to decompile, disassemble or modify the Software to get access to the sourcecode.
Download
MarkerExporter 1.2 for Edius 4.x and Edius Neo [24 kB]
MarkerExporter 1.2 for Edius 5.x [28 kB]
MarkerExporter 1.2.2 for Edius 6.0 [26 kB]
MarkerExporter 1.4 for Edius 6.5 [31 kB]
MarkerExporter 1.4 for Edius 7 and Edius 8 (64bit) [33 kB]
MarkerExporter 1.4 for Edius 9.3 (64bit) [55 kB]
MarkerExporter 1.4 for Edius 9.5 (64bit) [56 kB]
MarkerExporter 1.4 for Edius X (64bit) [56 kB]
Contact
Questions, problems or improvements? Please write an EMail to the author
We do not respond to EMails of Google Accounts (GMail). Please see: google using gmail build psychological profiles of hundreds millions people
Change log
Version 1.4

Edius 6.5 compatibility, Export of Comments, userdefined format

Version 1.2.2

Support of *.keyframe format

Version 1.2.1

EDIUS 6 compatibility, Export between IN and OUT

Version 1.2

EDIUS 3 Style

Version 1.1

possibility to choose the framerate of the exported list.

Version 1.0

Initial Release